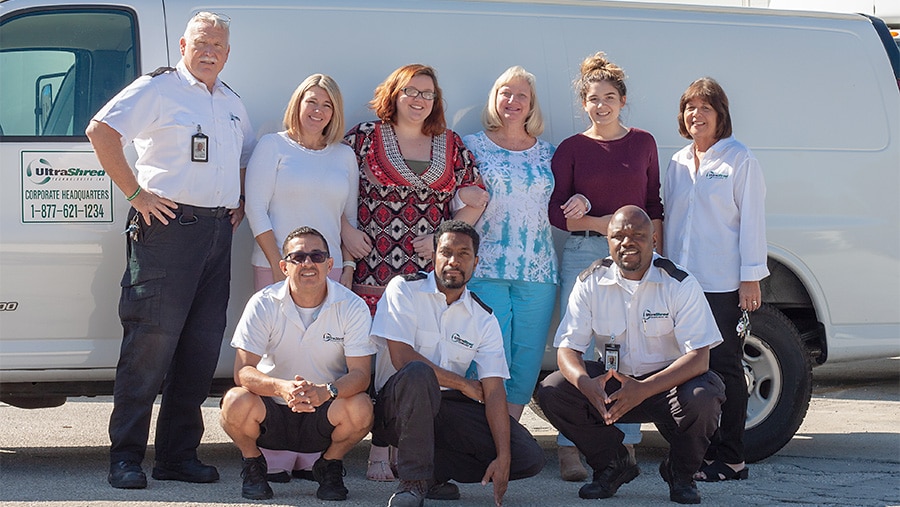 We are proud to be NAID AAA Certified to shred paper, non-paper media, and computer hard drives on-site right at your location.
---


UltraShred Technologies is a locally-owned business, founded in 2000, providing high-security on-site shredding services to businesses, government offices, institutions and residents in Northern Florida, the Panhandle, and Southern and Central Georgia. Both woman- and minority-owned, UltraShred maintains the highest qualifications in the industry as a NAID AAA Certified provider.
Our expertise is in ON-SITE secure paper shredding, non-paper media destruction, and computer hard drive destruction. We offer recurring scheduled service as well as one-time purge shredding service. With either service, your information is securely collected and destroyed on-site at your premises by our professional staff.
We recognize the commitment to supplier diversity embraced by corporations and government agencies today, and we can add diversity to your supply chain.
NAID certifies companies who can prove use of industry best practices but accredits individuals who can demonstrate mastery of all areas of the Information Disposal industry with the Certified Secure Destruction Specialist (CSDS) Certification. Fewer than 250 individuals in the US and Canada have received this prestigious certification. Our President, Margaret Meier, is a part of this exclusive group, having successfully passed the proctored 300-question examination.
Margaret's CSDS is a great example of what we like to think of as "The UltraShred Difference." Shredders can come and go, but companies and government agencies large and small have trusted UltraShred with their sensitive shredding since we were founded in the year 2000. We have the experience to make every shredding job seem simple and easy because of our professional staff, high-tech mobile destruction vehicles, and expertise after over 20 years in the industry!
There is proof behind our claims!
Don't just take our word for what we can do for you. Please read what our clients have to say here. We would also be happy to provide references from our clients with similar requirements to yours.
UltraShred Technologies is fully insured, NAID AAA Certified, and is a Certified Woman-Owned Business as well as a Minority-Owned Business.
For us, shredding is not just some "sideline" or "value-added service." Your data security and compliance is our ONLY business!
Request a Quote
Complete this form and receive your quote in the next 5 minutes!

Margaret's Minutes...
To get our monthly specials and learn more about information destruction, subscribe to our monthly "Margaret's Minutes" newsletter!